Welcome to the Rochester Guitar Club!
♫ Welcome to The Rochester Guitar Club Online. This website lists information about monthly Guitar Club meetings, guitar music events in and around Rochester, New York, and other guitar related events that may be of interest to guitarists.
The Rochester Guitar Club was formed in October 2006 with a goal of providing a social nexus through which local guitar enthusiasts could meet other enthusiasts, keep in touch, trade and play songs, and in general explore the music and many aspects of the guitar.
Monthly meetings often feature a song circle in which members take a turn at playing an instrumental they might be working on, or there might be a presentation, a concert, or a workshop that focuses on a particular aspect of the guitar. We meet on the third Monday of each month. Meetings begin at 7:00 p.m., but please come early to meet with fellow members. Check our event calendar for specific dates and times. A minimum donation of $3 at the door per RGC meeting and $5 for an RGC presentation is suggested. RGC members are entitled to free admission. Other donation amounts with discounts for members may be requested for special events.
During the recent pandemic, RGC meetings were held on Zoom. Beginning June 21, 2021, we have resumed in-person meetings in Wesley Hall in the basement of Asbury Methodist Church at 1050 East Avenue. Vaccinations are required for participation. Those not fully vaccinated are asked to wear masks. Zoom participation will also be available beginning in August 2021. Watch for further details. See individual calendar entries for sign-on info.
During 2020 RGC suspended all dues and held all meetings on line, free to all. Now, we are, once again, asking everyone to help out with the expenses and help keep the RGC ball rolling. Please send dues ($20 a year: a bargain!!) to Rochester Guitar Club at Box 93331 Rochester NY 14692. A portal will soon be available on this site for convenient dues/contributions. We'll mail your membership card; so make sure to include a return address.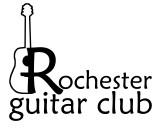 RGC Membership is currently $20 per year for new membership and renewals. Check your membership card for renewal date.
RGC Core Group Care to participate in the decision making and planning for RGC? Attend a Core Group Meeting to find out what goes on—no obligation. Use the Contact Us button if you are interested.
T-Shirts are $10 each and come in sizes S through 2XL or may be purchased for $5 with a new membership.
RGC Forms On-Line Business Cards, a Publicity Poster, Membership Form, Brochure and an Opinion Poll are all available for downloading and printing from the Resources Page. Let your friends know about RGC! Thanks for your support!
RGC e-mail If you are not receiving our e-mail, please be sure we have your correct e-mail address! Contact Us
Interested in becoming a member? Download our Membership Form or drop in on a meeting!
Free Guitar Strings! Bernunzio Uptown Music is now offering a one-time, free set of guitar strings to new, first-time RGC members. Join RGC at any meeting and receive a coupon valid for a free set of guitar strings at Bernunzio Uptown Music. Click here for more membership information. This offer is for new members only.
Mando! Mando! at Bernunzio's Guitarists! if you are also a closet mandolin player, come join us for this new monthly gathering. We're looking for mandolins, mandolas, mandocellos, octave mandolins, guitars and basses. For a link to to our current scores, click here. See the current calendar entries for details.
♫ Guitar in the Media!
WXXI-FM 91.5—Classical Guitar Alive airs on Sundays from 6 to 7 p.m. The one-hour program features the latest in the classical guitar world and more! Podcasts and round-the-clock listening are also available.
WRUR-FM 88.5—Open Tunings with host Scott Regan, airs weekdays from 9 a.m. to noon. The daily three-hour program features an eclectic mix of rock, folk, acoustic, and categories of music that have yet to be defined!
The now discontinued Cable TV Music Show featured local musicians. For information on that show see Cable TV Music Show RGC members have recorded DVD's for the Music Show and are available for $7.50 each from RGC. There are four episodes to choose from, including a Christmas show.
Stats