RGC Round Robin Holiday Meeting with Strings & Things, December 20, 2013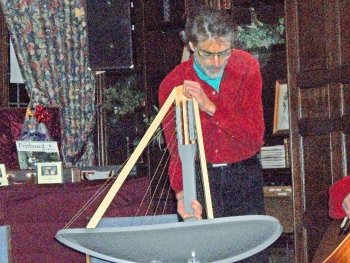 Kinloch & Dishtar
On Monday, December 20, RGC held a special holiday, round-robin meeting in the Red Room at Asbury Methodist Church, 1010 East Avenue. This special meeting was open to other stringed instruments with or without guitar. During the evening, we were treated to music on classical, acoustic, twelve-string and harp guitars, bowlback and flatback mandolins, standup bass, autoharp and a handmade, homemade dishtar.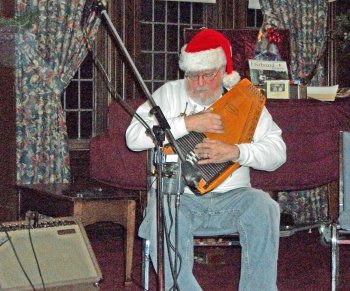 Santa with Autoharp
John Williamson & Richard Taglieri, classical guitar & bowlback mandolin; medley:
-"It Came Upon the Midnight Clear" (Richard Willis)
-"The First Noel" (traditional) and…
-"Have Yourself a Merry Little Christmas" (Hugh Martin & Ralph Blane)
Marty Pospula, acoustic guitar "The Christmas Song" (Bob Wells & Mel Torme)
Deb Ross & Richard, mandolins
-"Teasing Song" (Bela Bartok)
-"O Come, O Come Immanuel" (8th century)
-"The Holley & the Ivy" (trad. French carol)
-"The Coventry Carol" (16th century)
Stringalong (Kevin Mathers, Richard & Jeff Chiasson) mandolins, guitars, & upright bass
-"White Christmas" (Irving Berlin)
-"The Water is Wide" (trad. English)
-"Auld Lang Syne" (trad. Scottish)
George Aparicio, classical guitar "Suadade" (Dilermando Reis)
Daniel Gordon, 12-string guitar "Make Believe Rag" (Daniel's adaptation of "Maple Leaf Rag")
Kinloch Nelson, dishtar (homemade) "Joy to da Woild" (Isaac Watts)
Vern Lindberg, guitar in open D "Prodigal Son" (Robert Wilkins)
Jeremy Carter, autoharp "Silver Bells" (Jay Livingston & Ray Evans)
Deb, flatback mandolin "My Lady Careys Dompe" (anonymous)
Norm Tibbils, classical guitar "Se" (love theme from Cinema Paradiso by Ennio Morricone)
...all followed by light refreshments, door prizes and lively conversation!
~Richard Taglieri
Photos: Mary Taglieri
Share this page:

Facebook

Del.icio.us

StumbleUpon

Digg

Reddit