Classical Guitar Weekend at the Cleveland Institute of Music, May 30 - June 1, 2014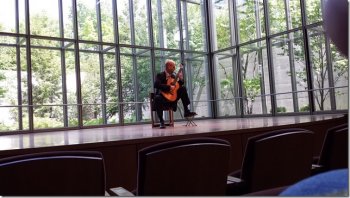 Once again I made the trip from Western New York to The Cleveland Institute of Music located in the heart of University Circle, Cleveland, Ohio to immerse myself in the world of guitar masters and conservatory students at the 2014 Cleveland International Guitar Festival. I have been attending this event for the last ten years and each year I am able to attend I am very thankful that I did. There is no way one could attend this event and not take a part of the experience home. There is a lot to be said about placing yourself in the presence of the great classical guitarists in the world. It's not just a guitar weekend, it's a guitar experience.
This year's concerts were all held in beautiful Mixon hall which, in my opinion, is ideally suited for the classical guitar. I don't think there is a bad seat in the hall. The stage has a full glass background which peers into a garden that becomes lighted as the night comes on. The guitar sings in this concert hall. The master classes are held in Room 113 of Cleveland Institute. I would highly recommend attending the master classes which are free and open to the public. In this intimate and personal setting you can gain much knowledge in guitar and music watching world masters teaching highly skilled student guitarists. During the day, you can also attend many lectures. I gained a lot of information from a lecture entitled "The Effects of Mindset, Willpower, Goal, and Deliberate Practice in the Quest for Mastery" Lecturer, Brad DeRoche. One interesting feature of the event are lectures by Master Guitar builders. This year, Jeffrey R. Elliot and Cyndy Burton gave a master guitar builder lecture on why they became guitar buildiers.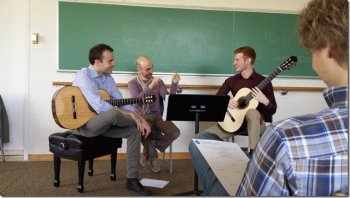 Petra Palackova from the Czech Republic played her very first concert in the United States on Friday evening. She plays an exciting program featuring works by Dowland, Mertz, Giuliani, and Ponce. Within the first few minutes of her concert I could see seriousness on her face that indicated how deep the music affected her. She has skills well beyond her young years and I knew early on I was in the presence of an extremely talented young woman. Her specialized eight-string Romantic Guitar made by Jim Tulacek graced the concert hall. She had complete control of all eight strings and her technique was amazing. I look forward to seeing her play again in the future.
The Duet of Nigel North, Lute, and Soprano Carrie Henneman Shaw played on Saturday afternoon. I learned a great deal from this concert. As Nigel North said in his opening words, "When you come to a Lute concert, one would expect to hear a lot of John Dowland on the concert program, but tonight you will only hear one piece by Dowland. The reason is because the Lute and its music were very popular well before the years of Dowland's existence." During this concert I was able to hear many examples of music that I had never heard before. Carrie Henneman Shaw executed her vocal talents which made this concert hall resonate me back into a time of beautifully written music. The duet of Nigel and Carrie were a perfect match to bring this early music alive and I enjoyed the concert very much.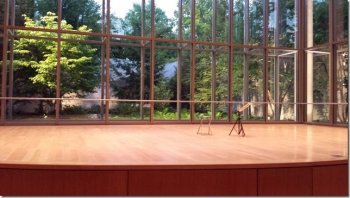 The Duet Soloduo comprised of Matteo Mela and Lorenzo Micheli performed on Saturday evening. There is something to be said when two great musicians can share and connect with their instruments. In the case of Soloduo, it's a rare-gifted spiritual-musical duet of the highest caliber. The audience was treated that evening with works by Albeniz, Llobet, Debussy and Jolivet. The duo were even brave enough to perfectly execute the Sonata "quasi una fantasia" op. 27 n. 2 (The Moonlight Sonata) by Ludwig Van Beethoven. Not only are these musicians talented, but are also entertaining, both in concert and in their master classes where they take an intense, sensitive, professional and engaging approach to teaching, but at the same time keep a sense of humor that makes you want to love them even more. I can't wait until I can see them perform again.
On Sunday afternoon, Robert Gruca performed a concert program featuring works of Robert Johnson, Agustin Barrios Mangore, Leo Brouwer and George Frideric Handel. To say the least, Robert Gruca is a master of the guitar and really surprised me. I was on the edge of my seat watching him perform Suite no. 7 HWV 432 by Handel. Robert commanded the guitar fretboard with great skill and filled the concert hall sweetly. My favorite song of the afternoon was "The Frog Galliard" by John Dowland. The playing of Robert Gruca made me realize ever further why I travel the 200-mile trip to Cleveland, Ohio every year to hear great guitar playing and spend time with the masters of the guitar world.
The mention of the playing of CIM students both during pre-recital time, and during the exhibition of fine classical guitars provided by Guitars International is worth mentioning. During these events, you can see some of the finest examples of hand-made classical guitars up close and ask questions about them. And you can hear some of them being played which is an extra treat. Hearing CIM students play can give us insight that the world of classical guitar has a rich future because there are talented teachers in the world in private and university settings teaching the new generations of upcoming masters of the guitar. Hearing students play works they have learned is a great feature of this event.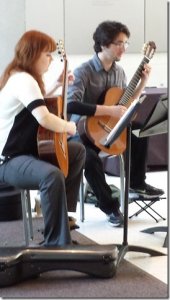 The final concert of the Cleveland International Guitar Festival was performed on Sunday evening with a duet of Jason Vieaux, head of the Guitar Department at the Cleveland Institute of Music and Julien Labro, master of the Bandoneon and button accordian. Featured works were by Piazzolla, Gnatalli, Metheny, and Leo Brouwer. I was convinced after this concert of how versatile the classical guitar is, and how it is capable of blending in with many different instruments. With this concert Jason and Julien certainly delivered the goods. I have seen Jason Vieaux perform for many years in Cleveland in duet and solo and I have always left feeling great about the guitar. His abilities are wide, yet focused in a way that only a true master of the classical guitar can do. I have always had a great respect for him and this performance with master musician Julien Labro only proves the guitar can cover many different aspects of the music world. Between flying fingers on Jason's fret board, and flying fingers on Julien's button accordion, I left the weekend fulfilled and blessed as always, and I look forward to next year's Cleveland International Weekend. One last comment I would like to make. During several of the concerts I sat up front, and during the performances I would occasionally glance behind me into the back of the concert hall. I could see the faces of the audience. Their facial expressions indicated to me that they were deeply interested and touched by the music of the classical guitar. This is the place to be, when it comes to hearing master guitarists. Next year's event in 2015 is four days instead of three, from Thursday, May 28 – Sunday, May 31. I already have my hotel room booked a year in advance. Hope to see you there!
~Jim Doyle
Share this page:

Facebook

Del.icio.us

StumbleUpon

Digg

Reddit