JoAnn Falletta International Guitar Concerto Competition, June 4-7, 2014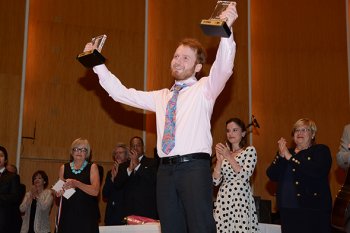 Marko Topchii of Ukraine sweeps prizes in internantional event
organized by WNED | WBFO and the BPO
I had a front row seat at the final round of the JoAnn Falletta International Guitar Concerto Competition hosted by a WNED announcer on June 7 in Kleinhans Music Hall in Buffalo. The semifinals had been held in downtown Buffalo on June 4 and 5 in the WNED Studios. This prestigious event takes place every two years.
Twenty-three year old Marko Topchii, a classical guitarist from Ukraine swept all the awards: audience favorite, orchestra's favorite and judges award in the final round, performing with the Buffalo Philharmonic Orchestra. Ballots were included in the program and were collected by the ushers. I spoke with Florida luthier, J. D. Glass who showed me the guitar he built for the winner made of Indian rosewood and German spruce with ball bearing tuning heads. J. D. who appears to be in his thirties sells directly and not to dealers.
 
The finalists were interviewed on video. Before they came on stage, the video was shown on a large screen over the stage. All the competitors commented on how unusual it is to play with a full orchestra for a competition; generally they would play solos. One of the judges was the beautiful Ana Vidovic whom I had seen playing with the Erie Philharmonic Orchestra some years ago. I spoke with her briefly in the lobby. When not touring, she teaches at Mannes College in New York City. She plays a Jim Redgate guitar from Australia. I also spoke with Falletta following her performance with the Buffalo Chamber Players this spring who plays a Paul Sheridan guitar from Australia. There was a pre-concert performance in the recital hall given by the students of the local Castellani Andriaccio Teaching Studio, adorable kids with three-quarter size guitars.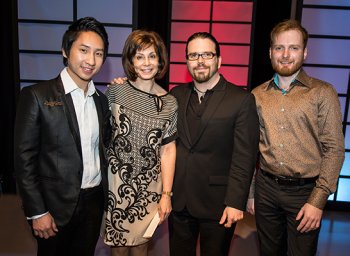 (from left to right) Finalist: Ekachai Jearakul of Thailand, BPO
Musical Director: JoAnn Falletta, Finalist: Chad Ibison of the
United States, and Finalist: Marko Topchii of Ukraine.
I do not know the hierarchy of competitions in the pantheon. I assume that the Christopher Parkening Competition in California and the Segovia Competition in Spain are at the top. The prize in Buffalo tops out at $10,000 whereas the Parkening award is, I believe, $25,000. The Buffalo winner gets a gig at a recital hall in Carnegie hall, returns to perform with the BPO, a recording contract with the BPO's label, (a subsidiary of Naxos) the Glass guitar and $10,000. Second place gets $3000 while $1500 is awarded to the third place winner. All get Lucite awards. There is a set repertoire they must select from. This year they were invited to also play any piece of their choosing which was not considered in the judge's evaluations but was merely a demo piece.
~Jonathan Gates
Share this page:

Facebook

Del.icio.us

StumbleUpon

Digg

Reddit