"Guitar Through the Centuries on Period Instruments" on October 20, 2014 in the Red Room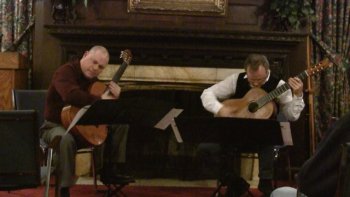 Dennis & Tim
Three world-class performers enthralled us with an exposition of guitars and guitar music from the Baroque period to the current era.
♪ Warner Iverson, a doctoral candidate at Eastman School of Music, played a modern replica of an Italian-style Baroque guitar. A deeply rounded back reflected its lute origin resembling the melon backed Italian mandolin that was produced into the twentieth century. Used from about 1600 to 1750, the guitar had five courses of two strings each with twelve frets ending short of the body. A round sound hole displayed an ornate three-dimensional rose formed from stacked and pinned cut-parchment sheets. Though a small guitar, the bright sound filled the room. Warner showed, but did not play, an antique six-string, equal temperament 1830's French guitar.
Warner began with a composition by Francisco Corbetta, speaking extensively of temperament, fret placement, tuning, tablature and the labeling of chord shapes. Anchoring the small finger of the picking hand to the face of the guitar facilitated a style of finger picking suitable to music of the era. His second piece was a Tarantella by Santiago De Mercio. (1732)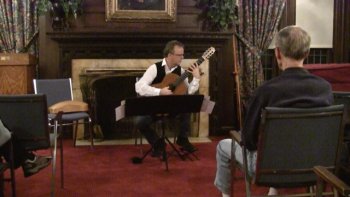 Tim
♪ Tim Shannon, using a modern classical guitar, played Fantasia Elegiac by the nineteenth century composer, Fernando Sor. Tim, a guitar professor at Hochstein Music School, demonstrated his mastery of the Sor style by using a variety of sounds, intonation and timbre to create a wide range of expression.
♪ Dennis Repino, a professor at Finger Lakes College, played another Elegy, this time by Stefanbach, a Czech composer. The beautiful, evocative piece was a dedication to the music of Sebelius. His thoroughly modern guitar by John Price of Australia is "cutting edge" of modern experiments in wooden acoustic guitar construction. The spruce face is ultra thin (perhaps about 0.7 mm) braced by balsa strips capped with carbon fiber arranged in a criss-cross lattice bracing style. The back and sides are made very thick to reduce their resonance, conserving energy for the face. The back is carved from a thick bookmatched slab to create a rounded form, reflecting energy back to the face.
Dennis discussed fingering style differences made possible by the super responsive Price guitar. Most impressive was his use of an unbelievably fast one-finger hammer-on tremolo while playing base and melody lines and chord strums with his many other fingers.
Together, Tim and Dennis played the Brazilian "Jongo," a very lively dance. They said it only took a year of practice to perfect it. They played as one.
We were fortunate to have witnessed such a professional demonstration of the evolution of guitar music over four centuries. 
~Jim Hill
Photos: Warner Iverson
Share this page:

Facebook

Del.icio.us

StumbleUpon

Digg

Reddit