Round Robin Play List & Core Meeting Notes, November 17, 2014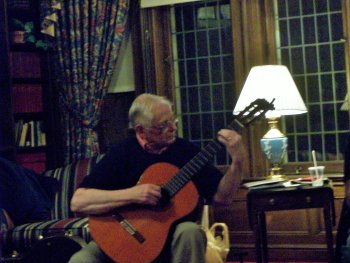 John Williamson
November's round robin meeting was preceded by a Core planning meeting which was open to the general membership. Several guitarists took advantage of this invitation joining us in exploring new ideas for the club. Some topics discussed were:
♪ Upcoming Holiday round robin meeting in December
♪ Mixed strings round robin session in February
♪ Round Robin sessions to be held at church venues
♪ Future presentations
♪ How to get more of us involved in future planning meetings
Details on these topics and more will be announced by e-mail newsletter and on this website.
Here is the current play list.
Marty Pospula, "Halfway Home" (Tommy Emmanuel)
Joe Palumbos, "Over the Rainbow" (Harold Arlen)
Paul Schickling, "Jesu, Joy of Man's Desiring," Cantata BWV 147 (J. S. Bach)
Phil St. George, "Body and Soul" (Johnny Green)
Vern Lindberg, "Ferry Cross the Mersey" (Gerry Marsden)
Jeremy Carter, "Don't Worry, Be Happy" (Bobby McFerrin)
John Williamson, "Elegie" (Massenet)
Steve Hahn, "Norwegian Wood/Vampire" (Lennon/McCartney/M.P. Smith)
Steve & Kinloch Nelson, Chapman stick & harp-guitar duet "So What" (Miles Davis)
Kevin Mathers, "Afro-Cuban Lullaby" (J. Marshall & C. Parkening)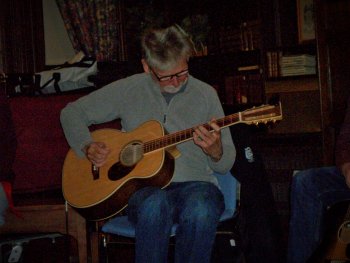 Kevin Mathers
Encore:
Marty, "Angelina" (Bob Dylan)
Paul, "Sonata 352" (Scarlatti)
Phil, "Bohemian Rhapsody" (Queen—Freddie Mercury)
Jeremy, "Deep River Blues" (Doc Watson)
John, "Where or When" (Rodgers & Hart)
Steve, "Spooky Boogie" (K. Minnear, R. Shulman, D. Shulman)
Kinloch, "Lonely" (original)
Joe, "Summertime" (George Gershwin)
Kevin, "la Paloma" (Sebastian Iradier)
Jeremy, "Simple Gifts" (Joseph Brackett)
~Richard Taglieri
See more photos.
Share this page:

Facebook

Del.icio.us

StumbleUpon

Digg

Reddit