RGC Round Robin Play List December 15, 2014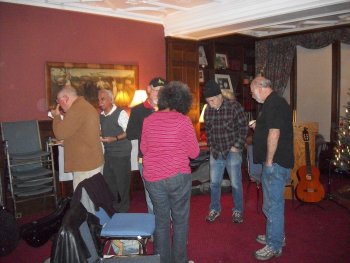 Party Time!
Music and Laughter were everywhere in the Red Room on Monday evening! Bob Fischl played his twelve-string, and local luthier, Bernie Lehmann, brought his 1941 Martin to play and for all to try out. Deb Ross wondered what the renaissance term "toy" really means, and John Williamson kindly loaned Jim Hill his stand light. Lou Alano let us know that he plays better with glasses—in the middle of his performance! Phil St. George told us that his dog runs away when he practices!
The Round Robin begins!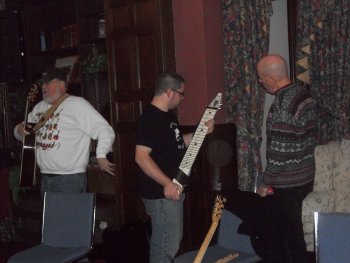 Between Guitarists
Marty Pospula, "Carol of the Bells" (Mykola Leontovych)
Bernie Lehmann, "Winter Wonderland" (Felix Bernard)
Deb Ross, "The Shoemaker's Wife" – a Toy (John Dowland)


George Aparicio, "Silent Night" (Franz Gruber)
Bob Fischl, "East HollowWay Hoedown" (John Hill)
Jim Hill, "Alorno" (arr. Carlos Montoya)
Phil St. George, "Jingle Bells"/"Dance of the Sugar Plum Fairies" (James Lord Pierplont)/(Tschaikowsky)
Lou Alano, "Star in the East"/"Hanging in There" (Amanda Kennedy)/(?)
Mark Grover, "The Water Garden" ((Degrassi)
Mark Grover showed another side of his talent, playing in a lovely rippling jazz style in contrast to his more familiar tapping technique. Following Mark's solo, door prizes were awarded including books, recordings, strings and more! Steve Hahn showed his expertize on his unusual Chapman stick as he has at past meetings.
...and the round robin continues: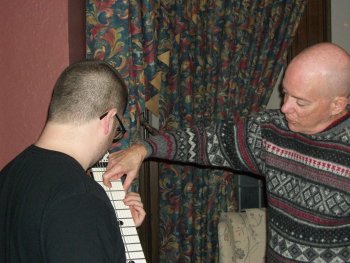 Show and Tell
Joe Palumbos, "Dance of the Sugar Plum Fairies" (Tschaikowsky)
Steve Hahn, "Jesu Parvulé" (Alferd Bert)
John Williamson, "Winter Wonderland" (Felix Bernard)
Jeremey Carter, Christmas Medley
Dan Feuerstein, "Not Sure Yet"
There were more door prizes to be had before this festive occasion concluded with refreshments and much spirited conversation! What better holiday party could we have had!
See more photos.
Door prizes: attending guitarists
Hospitality: Deb Ross, Lou Alano
Sound: Jeremy Carter
Setup: Jeremy Carter, John Williamson, Deb Ross, Mary Taglieri
Play list & photos: Richard Taglieri
Share this page:

Facebook

Del.icio.us

StumbleUpon

Digg

Reddit