RGC Round Robin at Tom Kelly's on January 19, 2015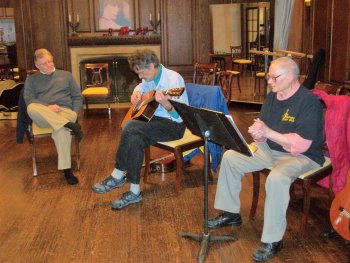 John, Kinloch & Phil
A small but dedicated group of guitarists gathered in Tom Kelly's home on Hawthorn Street this Monday for the monthly Guitar Club meeting. Tom's elegant home was built in 1901, renovated throughout the twentieth century, and again into the present century by Tom and his wife, Diana when they refurbished the house extensively combining modern functionality with classic elegance. The Kellys, who also teach at Tango Cafe, operate a dance studio in their home. This room was an ideal venue for guitarists. We thank the Kellys for sharing with us their charming home with its many surprising features accumulated for more than a century. The home prompted interesting conversation about Rochester and its history in addition to the usual musical exchanges among guitarists.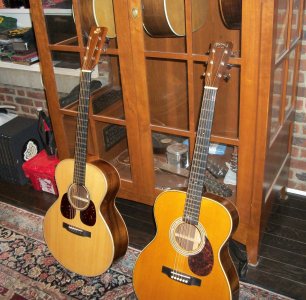 Guitars on Display
Here's the play list:
John Williamson, "Kentucky Lullaby" (Paul Yandell)
Bernie Lehmann, "Cabaret" (Justin Timberlake)
Joe Palumbos, "Moonlight Sonata" (Beethoven)
Phil St. George, "All of Me" (Karl Hajos)
Kinloch Nelson, "Deep Purple" (Peter DeRose)
Tom Kelly, "Everybody Wants to Rule the World" (Tears for Fears)
John, "Elegy" (Massenet)
Bernie, "I Fall to Pieces" (Cochran & Howard)
Joe, "The Girl from Ipanema" (Jobim)
Phil, "There is no Greater Love" (Isham Jones)
Kinloch, "Apache" (the Shadows)
Tom, "I Wish" (Stevie Wonder)
See more photos.
~Richard Taglieri
Share this page:

Facebook

Del.icio.us

StumbleUpon

Digg

Reddit