Mixed Strings Round Robin Play List, February 16, 2015 in the Red Room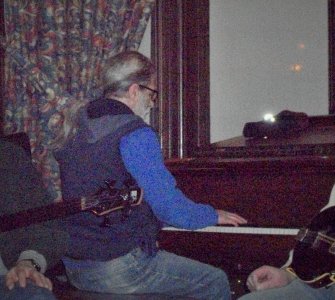 Lou at the Piano
RGC's February meeting in the Red Room was meant to be different and indeed was remarkably full of variety presented in new ways by our group of dedicated guitarists. The session included not only banjo, mandolin, autoharp, harp guitar and bass guitar as might have been expected, but also piano, clarinet, theremin and voice. Lou surprised us early on with his skillful and elegant impressionistic piano performance and later again with a clever and amusing vocal original.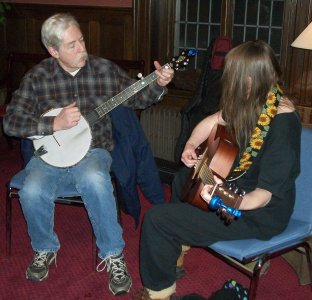 Mike & Jenna, banjo & guitar
The evening also included nice ensemble work by several duos, a trio and a quartet as well as a very together large ensemble performance of "Country Gardens" by almost everyone present with virtually no preparation, not once, but twice! And then there was Kinloch's performance on an instrument called a theremin, accompanied by John on guitar, which was truly unearthly, and the instrument has been around much longer than you would think. To me, though, the biggest surprise was Bernie's sweetly articulated renditions on the clarinet with Paul's guitar accompaniment! All in all, it was a satisfying session full of pleasant surprises by all. Here's the play list: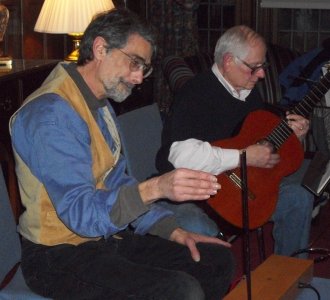 Kinloch & John, theremin & guitar
John Williamson, guitar, "Waltz" (Edvard Grieg)
Tom Napoli, guitar, "Bourée" (J. S. Bach)
Lou Alano, piano, "First Arabesque" (Claude Debussey)
Jeremy Carter, autoharp, "Somewhere Over the Rainbow" (Harold Arlen)
Quartet: Kevin Mather & Joe Nattioli, mandolins; Mick Sexton, guitar; Jeff Chiasson, bass guitar; "Ash Grove" (Welsh folksong)
Quartet, "Minuet No. 4" (J. S. Bach)
Bernie Lehmann, clarinet & Paul Schickling, guitar, "Stranger on the Shore" (Acker Bilk)
Bernie & Paul, "Tennessee Waltz" (Pee Wee King & Red Stewart)
Mike & Jenna Bernardi, banjo & guitar, "Colored Aristocracy" (traditional)
Mike & Jenna, "Red Hair Boy" (traditional)
Kinloch, theremin & John, guitar, "Star Wars" (John Williams)
Trio: Kevin Mathers, guitar; Richard Taglieri, mandolin; Jeff Chiasson, bass guitar; "Aylesford Ayre" (George Frideric Handel)
Trio, "Afro-Cuban Lullaby" (Cuban traditional)
Tutti, "Country Gardens" (Cecil Sharp)
Quartet, "Down by the Sally Gardens" (traditional)
Quartet, "Swing 42" (Django Reinhardt)
Lou, guitar & vocal, "Redder than Red" (Michael Johnson)(vocals by Lou)
Jeremy, "I Wonder How the Old Folks Are at Home" (Lambert & Vandersloot)
Kevin, mandolin "Reuben Sandwich" (Jethro Burns)
Kinloch, harp guitar & John, guitar, "Partly on Time"
See more photos.
"How many kinds of sweet flowers grow
In an English country - garden?
I'll tell you now of some of them I know
And those I miss you'll surely - pardon."
~ Richard Taglieri
Photos: Richard & Mary Taglieri
Share this page:

Facebook

Del.icio.us

StumbleUpon

Digg

Reddit