Presentation, "Introduction to the Chapman Stick" by Steve Hahn, April 20, 2015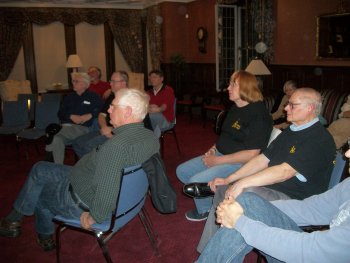 Meeting in the Red Room
The April RGC meeting opened with an abbreviated round robin. The feature for the evening was Steve Hahn's presentation, "Introduction to the Chapman Stick." For the round robin session Kinloch brought his harp guitar, John played an electric while Jerry had a very special Martin Veterans model guitar. The emblems of all the branches of the service are displayed on the headstock and fingerboard. The veteran's theme is further exemplified with mother of pearl inlays and other militaria insignia.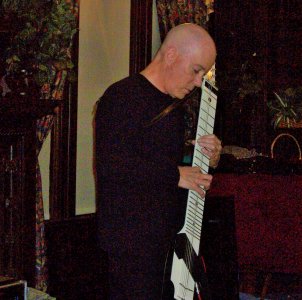 Steve Hahn & Chapman Stick
Here's the play list.
Bob Fischl, Variations on "Colours" (Donovan)
Kinloch Nelson, "April Flowers" (original)
Jeremy Carter, Patriotic Medley (various)
Tom Napoli, "Prelude" & "Andante" (Carcassi)
Kevin Mathers, "Study in E minor" (Giuliani)
John Williamson, "Georgia on My Mind" (Carmichael/Gordell)
Bernie Lehmann, "Blue Skies"(Berlin)
John & Richard Taglieri, "o Cravo e a Rosa" (Rodrigues)
Mark Grover, "The Good Life" (Billy McCaughlin)
The round robin was followed by Steve Hahn's fascinating presentation. He opened with a medley of three songs: "Jesu Parvule" a classical piece by Alfred Burt; Steve's own "Improv in D minor" and "October Sky" by Steve Homan, a sweet balad in a jazzy style. These three pieces each in a different style nicely illustrated the versatility of the instrument.
The "Stick" is somewhat of a fusion of guitar and bass played in a two handed tapping fashion with both hands equal partners on the fretboard playing independent or interlaced lines. It is not a well known instrument, but has an avid following of serious players. It was enlightening for us guitarists to learn about a related instrument that was first developed in 1969 by Emmett Chapman who began by adding two strings to a guitar. In 1974, the first production of instruments took place.
The instrument has been evolving ever since. The fretboard is flat allowing for even tapping with all ten fingers creating an intricate complexity of harmonies. Originally acoustic, it eventually became electric with a pickup above the strings.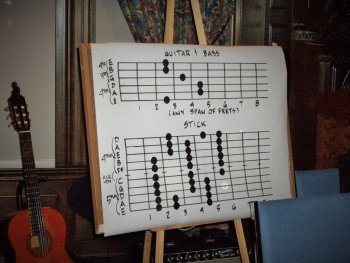 Chapman Stick Tuning
Over time, it has been constructed from a variety of materials inluding polycarbonate, solid wood, laminate and currently aluminum, partly to reduce cost. The instrument usually has ten strings with a range of five and a half octaves. The lowest strings are located in the center with one side tuned in fifths like a cello, C G D A E,(low to high) and the other side tuned in fourths, F# B E A D. (low to high) There is a damper on the first fret although that fret can still be played.
Strings are available from Stick Enterprises, Inc. in light, medium and heavy gauge. Pickups are located on both sides of the stick, but some players input both sides together into the amp resulting in a mono effect. Steve prefers to keep the bass and treble sides separate creating a pleasing stereo effect. Steve was also the first to record using all harmonics. After answering our many questions, he closed the session with "Suite Vignette" an original, "What Is Hip" by Tower of Power and "Funk Potpourri," another of Steve's own compositions.
For more information, see www.stick.com.
For more photos, click here.
~Richard Taglieri/John Williamson
Photos: R. Taglieri
Share this page:

Facebook

Del.icio.us

StumbleUpon

Digg

Reddit