Round Robin Outreach at Hoag Library in Albion, May 2, 2015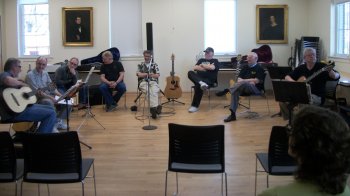 RGC Guitarists at the Library
Saturday, May 2, at the Hoag Library in Albion was a great success in every way! In the spirit of May Day, the weather was ideal.  A congenial group of eight players from RGC convened in the library to play good music, converse with each other and with a small group of library patrons assembled to enjoy the music.
The cheerful, sunlit room was very conducive to interaction among players and audience. A variety of styles was played on a variety of guitars. A special treat for us was Rohan, a young man in attendance who was discernibly enthusiastic about our music. After completing our rounds, we invited him to play which he did to everyone's delight.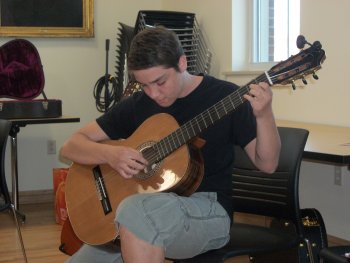 Library Patron, Rohan Sorta
We were received warmly by the library staff and have tentative plans to return in October.  Many thanks to the library staff and to Jim Doyle, a founder of RGC and resident of Albion who helped make the event possible.
 
John Williamson, Epiphone Sheraton electric, "WinterWonderland" (Dick Smith)
Jeremy Carter, Taylor 810, "Classical Gas" (Mason Williams)
Phil St. George, Ebanez George Benson, "Don't Get Around Much Anymore" (Duke Ellington)
Kinloch Nelson, Kevin's make, "A Rose in Spanish Harlem" (Phil Spector)
Lou Alano, Morris S101, "The Water is Wide" (Scottish folk song)
Tom Napoli, Martin D35, "Walking My Baby Back Home" (Fred Ahlert)
Kevin Mathers, his own make, "Study in A minor" (Matteo Carcassi)
Richard Taglieri, Orpheus Valley, "Ballade" (A. H.)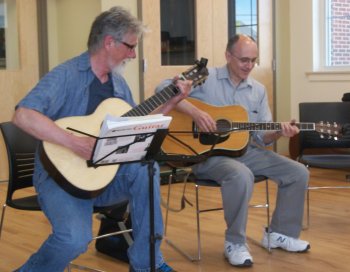 Kevin & Tom
John, "Georgia on My Mind" (Hoagy Carmichael)
Jeremy, "Vincent" ("Starry, Starry Night") (Don McLean)
Phil, "Norwegian Wood" (Beatles)
Kinloch, harp-guitar, "Prelude No. 1" from "The Well Tempered Clavier" (J. S. Bach)
Lou, "Embroyonic Journey" ( Jorma Kaukonen)
Tom, "The Sicilian" (Matteo Carcassi)
Kevin, "Nocturne" (Matteo Carcassi)
John & Richard, "o Cravo e a Rosa" (Jair Rodrigues)
Rohan Sorta, "Etude" (Matteo Carcassi)
For more photos, click here.
~Richard Taglieri
Photos: Mary Taglieri
Share this page:

Facebook

Del.icio.us

StumbleUpon

Digg

Reddit