RGC Round Robin Play List for July 20, 2015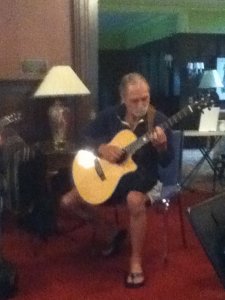 Lou Alano
It was a pleasure to see old friends and new faces as we enjoyed the usual variety of music and instruments including several medleys and duets. Between rounds we all played "Maid Colleen" together in preparation for October's outreach program in Albion. Beginning the second round, the unusual Mozart's Mirror Canon was presented as a duet with each part played from the same score upside down in relation to the other! To conclude the evening we were to treated to Mark Grover's show-and-tell of his eight-string guitar.
Here's the play list:
John Williamson & Richard Taglieri, Latin Medley: "Las Mañanitas" (traditional Mexican) & "O Cravo e a Rosa" (Jair Rodrigues)
Mark Winrock, "The Great Remember" (Steve Martin)
Joe Palumbos, "Mrs. Robinson" (Paul Simon)
Tom Laiosa, "Yesterday" (Paul McCartney)
Bob Fischl, "DaDum" (unknown)
Mark Grover, "Where We Began" (Vin Downes)
Vern Lindberg, "Oh Babe, It Ain't No Lie" (Libba Cotton)
Bernie Lehmann, "Dream a Little Dream of Me" (Andre & Schwandt, lyrics by Gus Kahn)
Jeremy Carter, Movie Theme Medley
Lou Alano, "McGuire's Landing" (Pete Hutlinger)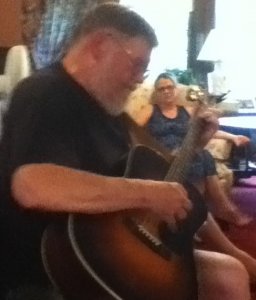 Jeremy Carter
Encore...
John & Richard, "Der Spiegelkanon"(Mirror Canon)(Wolfgang Amadeus Mozart)
Joe, "Over the Rainbow" (original arrangement)
Tom, reprise of "Yesterday"
Tanya Wurzer, "Apache" (Jerry Lordan) & Malagueña (Ernesto Lecuona)
Mark G., "No Alibis" (Tom Lieb)
Vern, Medley: "Helpless" & "Love is a Rose" (Neil Young)
Bernie, "La Vie en Rose" (Edith Piaf)
Jeremy, "Blackbird" (Paul McCartney)
See more photos.
~Richard Taglieri
Share this page:

Facebook

Del.icio.us

StumbleUpon

Digg

Reddit