RGC Round Robin Play List for September 21, 2015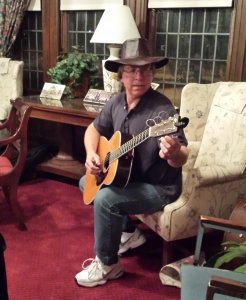 Marty Pospula
The September meeting was preceded by an open Core meeting. Several player attended this meeting and offered useful suggestions. Some members would like to see more instruction and small ensemble playing. The decision was made to begin round robin sessions with a "Tip of the Month" for playing guitar. This will begin at the December 21 holiday meeting with John Williamson offering advise to players. Lou Alano and Kinloch Nelson have also volunteered to follow up at subsequent meetings. All players are welcome to join in this new feature of Club meetings. Use the Contact button on this site to let us know if you are interested.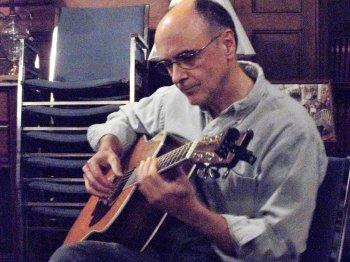 Tom Napoli
The regular meeting included the usual rousing round robin in the red room including Steve Hahn's Chapman Stick, Lou Alano's right arm rest which attaches to the guitar body and Marty Pospula's information on truefire.com where he was able to adjust the tempo and key of the music while learning it.
Play List:
Marty Pospula, "Halfway Home" (Jason Mraz)
Lou Alano, "Ashoken Farewell" (Jay Unger)
Jeremy Carter, "Miss the Mississippi" (Bill Halley)
Steve Hahn, "I Brought My Father with Me" (Michael P. Smith)
Mark Winrock, "Walking Eighth from Third" (original)
Tom Napoli, "If I Only Had a Brain" (Harburg/Arlen)
Larry Johnson, "Etude, Opus 6, #12" (Fernando Sor)
Bernie Lehmann, "Éamonn an Chnoic" (Ned of the Hill)(traditional Irish)
Kinloch Nelson, "The Letter" (Wayne Carson Thompson)
Paul Schickling, "Segovia Etude #1" (Fernando Sor)
John Williamson & Richard Taglieri, "Invention No. 1" (J. S. Bach)
Encore: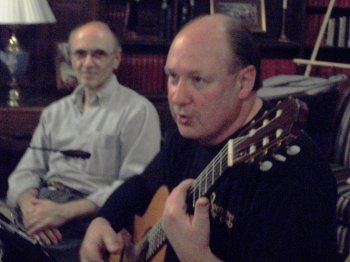 Paul Schickling
Marty, "Lazy Susan" (Fogelberg)S
Lou, "Nocturne" (Aaron Shearer)
Jeremy, "Shanty" (Jonathon Edwards)
Steve, "Asymmetry" (original)
Mark, "Mad World" (Roland Orzabal)
Bernie, "Just the Way You Look Tonight" (Jerome Kern)
Kinloch, "TelStar" (original)
Paul, "Segovia Etude #6" (Fernando Sor)
John & Richard, "Crab Canon" (J.S. Bach)
See more photos.
~Richard Taglieri
Share this page:

Facebook

Del.icio.us

StumbleUpon

Digg

Reddit