ECMS Guitar Ensembles Directed by Petar Kodzas, ECMS, November 16, 2015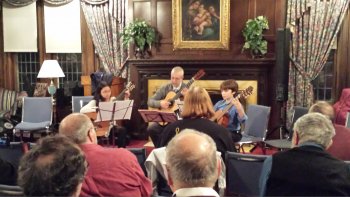 Youth Ensemble No. 1
The first hour of this RGC meeting focused on ensemble performance. Our speial guest tonight was Professor Petar Kodzas, Senior Guitar Instructor from the Eastman Community Music School. The players ranged from elementary through High School students to adults, all under the direction of Professor Kodzas. Many family members and friends were present to enjoy the music. The evening was an acoustic pleasure for players and audience alike. The second hour featured solos and a duet in a typical round robin session.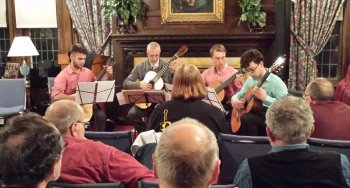 Youth Ensemble No. 2
Here is the play list:
Ensemles:
ECMS Youth Guitar Ensemble 1:
"English Country Garden" (traditional English)
"Bourée" (Handel)
"Sailors Hornpipe" (traditional)
ECMS Youth Guitar Ensemble 2:
"Adagio" (Mozart)
"Trio" (Hindemith)
ECMS Ladies Guitar Quartet:
(Jennifer Bennett, Christine Derby-Cuadrado, Michelle Jaramillo, Nancy Shedd)
"Pop" (Andrew York)
"Farewell to Stromness," (Peter Maxwell Davies, arr: Scott Tenant)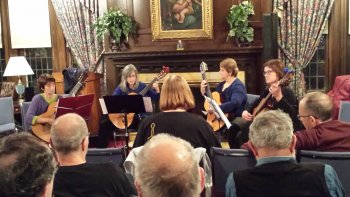 Ladies Guitar Quartert
ECMS Adult Guitar Ensemble:
(Jennifer Bennett, Roger Chen, Christine Derby-Cuadrado, Michael Keaton, Donald Sade, Nancy Shedd, Richard Taglieri, John Treanor)
"Divertissements sur un thème de Vivaldi" (Carlos Perez)
Round Robin: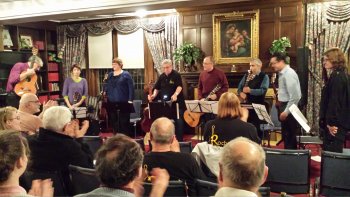 Adult Ensemble
Phil St. George, "James" (Pat Metheny)
Joe Palumbos, Medley: "Linus & Lucy," (V. Guaraldi) "The Water Song" (G. Lake)
Al Swet, "Study in B minor" (Sor)
John Williamson & Richard Taglieri, "Taking a Chance on Love" (V. Duke)
Marty Pospula, "Dance with Me" (Orleans)
Jeremy Carter, "Sunshine on My Shoulders" (J. Denver)
Kinloch Nelson, "Astral Promenade" (Chuck Mangione)
Bernie Lehmann, "Makin' Whoopee" (Gus Kahn)
Steve Hahn with Chapman Stick, "What Is Hip?" (Tower of Power)
For more photos, click here.
~Richard Taglieri
Photos: Jim Doyle
Share this page:

Facebook

Del.icio.us

StumbleUpon

Digg

Reddit