RGC Holiday Meeting, December 21, 2015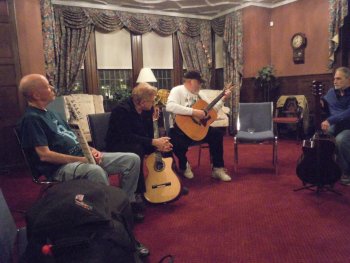 Steve, Phil, Jeremy & Lou
RGC's latest holiday meeting included refreshments, door prizes, lively conversation and seasonal music. John Williamson presented the first "Tip of the Month." as part of his solo. The tip was how he changes from the key of A to the key of D for the second time through the song. He also passed out an info sheet showing how using a V7 chord instead of a V chord leads the ear into the new key. This will be a regular feature of RGC meetings. If you would like to present one, let us know. Here's the play list.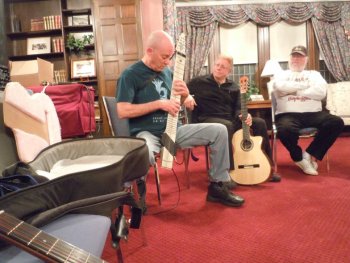 Steve, Phil & Jeremy
Tom Napoli, "The Holly and the Ivy" (traditional)
Marty Pospula, "Carol of the Bells" (Mykola Leontovych)
Joe Palumbos, "Dance of the Sugar Plum Fairy" (Tchaikovsky)
Lou Alano, Medley: "The Parting Glass"/"Star in the East" (traditional/Cooper)
Jeremy Carter, "Reggae Christmas Medley" (various)
Kinloch Nelson, "Ave Maria" (Schubert)
Steve Hahn, "Jesu Parvule" (Alfred Burt)
John Williamson, "It Came Upon the Midnight Clear" (Willis/Sears)
Phil St. George, "Blues for Santa (unknown)
Bernie Lehmann, "We Three Kings" (J.H. Hopkins, Jr.)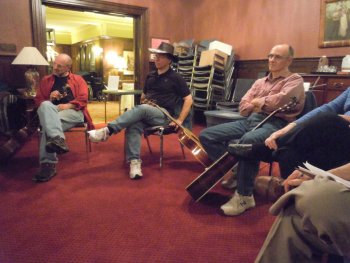 Joe, Maty & Tom
Merry Christmas!
~Richard Taglieri/John Williamson
Share this page:

Facebook

Del.icio.us

StumbleUpon

Digg

Reddit