RGC Round Robin in the Braman Room at Penfield Library, January 20, 2016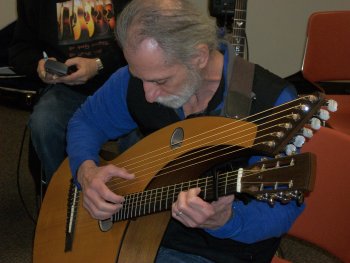 Lou Alano with Harp Guitar
Wednesday's lively Round Robin in the Braman Room of the Penfield Library compensated for the low key event in the Red Room on Monday whose attendance was limited by the inclement weather. More guitarists meant more conversation and more music. We were also treated to not one, but two harp-guitars in the same evening! Here is the play list:
Paul Schickling Trio
Richard Taglieri, "Ciriciribin" (A. Pestolozza)
John Williamson, "September Song" (Kurt Weill)
Joe Palumbos, "Mrs. Crowe's Blue Waltz" (Adrian Legg)
Jeremy Carter, "Moon River" (Henry Mancini)
Tom Napoli, "If I Only Had a Brain" from the "Wizard of Oz" (Harold Arlen)
Bernie Lehmann, "Jamaican Medley"
Neil Thompson, "El Testamento de Amelia" (Llobet)
Kinloch Nelson on harp-guitar, "November" (Stephen Bennett)
Lou Alano, on harp-guitar, "In the Bleak Midwinter" (Gustav Holst)
Richard Taglieri & John Williamson, "Taking a Chance on Love" (Duke, LaTouche, Fetter)
Paul Schickling, two guitars & bass, from the soundtrack of "Midnight in Paris"
Joe, "The Sage" (Greg Lake)
Jeremy, "Walking the Dog" recomposed (original)
Bernie, "Dream a Little Dream of You" (Gu Kahn)
Neil, "Lute Suite" (J.S. Bach)
Kinloch, "Bourree No. 2" (Bach)
Lou, on guitar "Welcome" (original)
See more photos.
~J. Carter/R. Taglieri
Share this page:

Facebook

Del.icio.us

StumbleUpon

Digg

Reddit