Norm Tibbils Presentation, February 20, 2016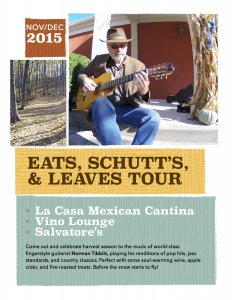 Norman Tibbils, in addition to teaching guitar at Music & Arts in Pittsford Plaza, works steadily as a solo guitarist an average of three times a week at various venues around Rochester. He plays a Cordoba nylon string cutaway guitar with a Fishman pickup and a separate microphone inside the guitar body.
Norm started out his presentation with "Alfie's Tune," a Sonny Rollins composition used in the movie Alfie. He found a chart for the song in one of the "Real Book" series, created a backing track, using Band In A Box (pgmusic.com) on his Apple computer. Band In A Box allows the user to enter chord changes, a playing style, and backing instrumentation. Once the arrangement is complete it can be downloaded to Norm's iPad.
Norm discussed his method for learning and arranging songs:
1. Pick a tune from one of his lists, and then go to a source, such as one of the 50 songbooks that he owns. Or Rhapsody.
2. Download a classic recording of the song from Rhapsody and
note any differences between that and the written version. (There are always differences.)
3. Write out a lead sheet in Sibelius, arranging it to incorporate the
best elements of the written and recorded versions.
4. Copy the Sibelius version into Band-In-A-Box 2015.
5. Render the BIAB to mp3 and add it to iTunes.
6. Practice the arrangement slowly, using Amazing Slow Downer.
7. Make any changes needed.
When playing a gig, Norm uses his "Tour Book." (See visual below for a view of the cover.) It includes the songs he plays, listed in alphabetical order. He doesn't use set lists, preferring to play songs in order as they appear on his song list. Since most of his gigs are for providing background music, there is no need to skip around the song list.
The next song Norm played was "All I Have To Do Is Dream," an Everly Brothers favorite. He uses that song as a test to gauge the age of the audience. He followed that with "Blue Moon," song #2 in his "Tour Book."
Next up was a demonstration of his DigiTech JamMan Stereo Looper. This allows a player to record a track in real time, return to the beginning of the track, and add a second track. Additional tracks can be added and all can be played back while he plays the song's melody in real time. The looper can also be used to learn new songs and work out parts of songs by playing notes or a phrase, playing that track back, and then trying to play along. For example he can play a scale (major or minor) into the looper, play it back, and try out harmony lines on top of the initial notes. The looper also can be used to record multiple tracks on a song, with the end result being in essence a three- or four-guitar ensemble, playing lines in harmony with each other.
Norm next played "Have You Met Miss Jones," a jazz standard, using the backing track he recorded using Band In A Box. He mentioned that he worked a long time on the guitar introduction for his arrangement, and then programmed the chords into Band In A Box.
"How Sweet It Is" was Norm's next offering, inspired by James Taylor's version of the classic Holland-Dozier-Holland song.
Starting when Norm was a kid he learned songs by playing LP's, 45's, and cassettes at lower speeds. The drawback to this method is that it lowers the pitch by an octave. Now he uses Amazing Slow Downer (ronimusic.com) which enables a computer to do the same thing while maintaining the same pitch, a much more enjoyable way to work on a song.
According to Norm, he builds up his song list by transcribing or rearranging songs by ear, and by reading charts. Over the past three decades he has transcribed a lot of songs by Gene Bertoncini, Joe Pass, Wes Montgomery, George Benson, Chet Atkins, Pat Metheny, and Charlie Parker. He then played his favorite Earl Klugh solo piece, "Dr. Macumba."
Another software tool he uses is Sibelius, a software program that can print out music scores. Norm is a very good reader of standard notation, preferring it to tablature (which he never uses).
Norm's early-morning routine includes playing exercises slowly to coordinate his hands and improve finger placement accuracy. As a way of highlighting the value of this kind of practice, he mentioned that when Chet Atkins was growing up he milked the cows early in the morning, practiced guitar, then went to school.
The final songs Norm favored us with were the Eagles' "Lying Eyes," James Taylor's arrangement of Carole King's "Up On The Roof," and a lively latin number, "Amor, Amor, Amor." Using the techniques already mentioned, he demonstrated how he worked out all the vocal harmony parts and guitar fills to "Lying Eyes," making them an integral part of his arrangement.
In all, Norm gave us a thorough view of his methods and techniques that enable him to learn, arrange, and render multiple songs and styles rapidly, as appropriate for the clubs and restaurants he regularly plays in.
~John Williamson
Share this page:

Facebook

Del.icio.us

StumbleUpon

Digg

Reddit