RGC Round Robin Play List for April 18, 2016
Kinloch Nelson opened this month's get-together with a "tip-of-the-month." His concept was to expand our familiarity of the instrument and improve improvisational skills by finding every occurrence of each note on the fretboard including harmonics. He expanded on this concept by adding relevant chords, major and minor. A further elaboration was to find popular melodies on a single string. We all tried some of these exercises and hope to improve our knowledge of the instrument in the future, well aware that this could keep us busy for months! Joe Palumbos volunteered to contribute a tip of his own at the May 16 meeting.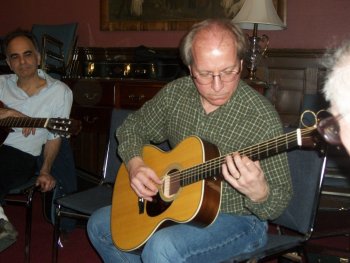 Some players showed up with new equipment; Rich Rathbun with a new guitar, Mark Grover with a new amp, Jeremy, a new guitar stand and Marty Pospula with a newly healing thumb after a workshop mishap! Steve Hahn played his Chapman Stick, not new to him, but new to some of our members. Steve gave us a brief summary of this unusual and versatile instrument!
As you will see from the playlist, many guitarists came with original compositions or arrangements.

Play List
Marty Pospula, (medley of works in progress) (original arrangements from various composers)
Rich Rathbun, "Westward Sun" (original)
Mark Grover, "Upward Mobility" (Andy McKee)
Tom Napoli, "Cannonball Rag" (?)
Mark Winrock, "Telegraph" (original)
Jeremy Carter, "Missin' the Mississippi" (Bill Halley)
Kinloch Nelson, "Up on the Roof" (Gerry Goffin & Carole King)
John Williamson, "Witchcraft" (Bartholomew & King)
Joe Palumbos, "B-string Bend" (original)
Steve Hahn, "Potpourri" (original)
Neil Thompson, "O, Sweet Woods" & "Dear, If You Change" (John Dowland)
John & Richard Taglieri, "April in Paris" (Duke & Harburg)
and then: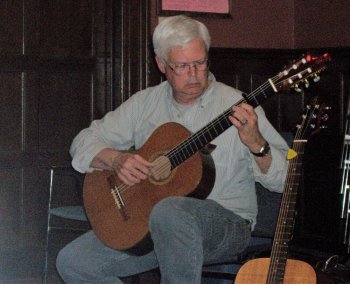 Marty, "Noodlin'" (original)
Rich R., ") Where Are We All Goin?" (original)
Mark G., "You Make My Dreams Come True" (original arr. Of Hall & Oates Duet)
Jeremy, "My Sweet Lady" (John Denver)
Kinloch, "The Man with the Green Thumb" (Tommy Emmanuel)
Joe, "Over the Rainbow" (Harold Arlen)
John & Richard T., "Misty" (Erroll Garner)
~R. Taglieri
Share this page:

Facebook

Del.icio.us

StumbleUpon

Digg

Reddit