Ken Luk's Presentation on Haitian Classical Guitarist & Composer, Frantz Casséus & RGC Round Robin Play List, February 19, 2018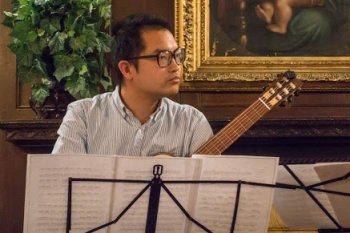 Ken Luk
RGC's meeting in the Red Room on Monday, February 19, brought a rare treat.  Eastman DMA student, Ken Luk, gave us a first-rate talk on a little known Haitian classical guitarist and composer named Frantz Casséus.
 
Ken's interest in Casséus stemmed from a general interest in South American guitar music and his observation that while there are quite a number of well-known classical guitarists and composers from South and Central America there is not much Caribbean classical guitar, except from Cuba. Ken wondered about this, did some research, discovered Haiti's Frantz Casséus and decided to dig a little deeper.  What he found and presented to us this evening was a unique individual and a body of work largely influenced by both European traditional classical guitar pedagogy and native Haitian music and culture. 
 
Ken pointed out that to understand and appreciate the Haitian side of Casséus' music one needs to understand the Haitian story itself—from the days of Columbus' fifteenth century discovery and subsequent rape of the island to the seventeenth century years of French occupation, the 1791 Haitian revolt against the French, the difficult Haitian independence in the 1800's, and the eventual U.S. occupation starting in 1915, the year Casséus was born.  
 
Casséus, like much of the island's population was a man of African descent.  After Columbus and the Spanish wiped out the island population through murder, brutal enslavement and disease, the Spaniards needed to bring in African slave replacements as the Spanish were still in search of gold and whatever else that they could plunder.  As happened everywhere in the Americas the African slaves brought along their traditional music, which in this instance fell under the influence of Spanish and then French music. With the U.S. occupation and the influx of U.S. cultural influence, Haiti underwent a cultural backlash. The now African descended population began to look inward to its African roots. This was the time in which Casséus grew up.
 
So, Casséus, the young guitar student, born during the American occupation, at first studied and largely mastered the popular European classical repertoire of the day: Sor, Tarrega, De Vise, Scarlotti, Mozart, De Falla and others.  But as he grew older he ultimately felt the need to honor his Haitian/African roots, so he began to write Haitian/African influenced solo guitar pieces.  Some of these he included in concerts, recordings and publications.  
 
The US occupation ended in 1934.  Casséus stuck around for about ten years. But in 1946 with an interest in the excitement and musical freedom of the new American jazz, Casséus headed to The States.  Thus began a career that was to include teaching at The Manhattan School Of Music, two years of touring with the Jamaican/American, Harry Belafonte, recording sessions that produced three albums, and publishing efforts that produced thirty-two edited studies for classic guitar by Carcassi, a five-volume collection of works for classical guitar, and publications of his own works.  He also enjoyed a respectable concert career that included at least one appearance at Carnegie Hall.  
 
Ken spent some time on the technical side discussing the peculiarities of the Haitian rhythms that influenced Casséus' compositions.  He played some of the recordings of Casséus that can be found, mostly on Youtube, and spent a little time as well on Casséus' story, talking about why he eventually quit performing and as time went on, largely retreated into the shadows.  His record label went out of business, and popular music, in the spotlight of which he enjoyed a brief stint began to change, leaving him behind.
 
Anyone interested in hearing the man's music can find recordings on-line. Here are some suggested links.
 
His albums:
https://www.youtube.com/watch?v=bfZUQdsc_a0 He had three recordings, one is only vocal music, one is half vocal, half solo guitar, and this link is his solo guitar album. The Haitian Suite (first four pieces on the album) might be his most famous solo guitar composition.
 
Perhaps his most famous song, Meci bon Dieu:
https://www.youtube.com/watch?v=kLluLVVBq1M It is actually the fourth movement of the Haitian Suite, but with lyrics. Both versions share a similar guitar accompaniment figure. The solo version actually has a different name, Coumbite. 
 
...And here is a version recorded by Harry Belafonte:
https://www.youtube.com/watch?v=zPveBGLVMZ0 This track also has a similar guitar accompaniment figure to the versions mentioned above. Belafonte recorded this, probably because Casséus was touring with Belafonte for quite a few years!
 
As a footnote, it should be said that Casséus' student, Mark Ribot, has recorded some of Casséus' music and it can be heard on YouTube, as well.  Additionally, Mr Ribot has compiled two publications, as of this date, that include all the known solo works of Frantz Casséus.
 
Rochester Guitar Club would like to thank Ken for his entertaining and informative presentation!
~Kinloch Nelson
The presentation was followed by a round robin session. Here is the play list:
Bernie Lehmann, "Planxty Fannie Powers" (O'Carrollan)
Joe Palumbos, "Trapped" (J. Palumbos original)
Marty Pospula, "Angelina" (Tommy Emmanuel)
Lou Alano, "Simple Gifts" (Shaker tune, Arr. by Frederick Hand)
Jeremy Carter, "O Danny Boy" (F. Weatherly words set to 'Londonderry Air')
Kinloch Nelson, "Harvest Moon" (Neil Young)
~John Williamson
Share this page:

Facebook

Del.icio.us

StumbleUpon

Digg

Reddit