RGC Special Concert in the Red Room on May 21, 2018
A very special concert was held by the Rochester Guitar Club in the Red Room on May 21, 2018. This event consisted of two very different presentations. The first hour featured Leah Ou playing and talking about the pipa, an ancient Chinese stringed instrument. For the second hour, Tom Torrisi and Ken Luk played replicas of nineteenth and twentieth century guitars. Bernie Lehmann and Jeff Cole, who made the replicas, gave a brief presentation of the instruments used.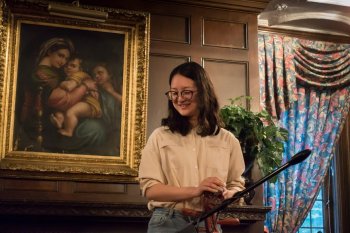 Leah Ou Playing the Pipa
Leah Ou
L
Classically trained, Leah Ou began playing pipa twenty years ago. A performer and teacher in China, Leah has devoted herself to musical exploration, so as to help usher this timeless instrument into a new musical age. Her recent move to Rochester has sparked her interest in bridging the gap between
traditional Chinese folk and American music.
The pipa dates back almost 2000 years, being popular in China since around 618AD. Modern pipa compositions are often characterized by five finger tremolo, note bending into the deep frets, percussive plucking of strings and its notably bright sound. Lea's Pipa is a four-stringed instrument about 35 inches in length. Its body is elongated and thin, shaped similar to the bowl body of a mandolin. The neck is long and slender with four over-sized tuning pegs that appear to be held in place by friction, rather than gears. The pipa has 32 frets overall and three partial bridges. It is tuned A D E A (low to high). It is held in an almost vertical playing position during a performance, rather than an angled or horizontal position typically used by guitarists. The strings are usually plucked using the thumb and fingers of the right hand. The instrument also exists in other configurations.
Leah played nine pieces in all. Her fingerstyle playing is quite energetic and physical. It is as entertaining to watch her perform as it is to hear her play. The music ranges from complex and lively to light and delicate. Her play list and comments on her playing techniques follow below.
"Flower Festival" - This piece demonstrated a wide variety of playing techniques: tremolo (with all fingers), string bends, strums, string scratches, harmonics, double stops, and slides.
"River Flower in the Moonlight" – an ancient song, the tempos were varied in this piece.
"Ambush from All Sides" - another ancient song, Leah used a strong attack on the strings, using snaps and pulls as well as multiple string bends.
"Colorful Clouds Chasing the Moon" – This was a soft song, aptly matching the title. Note intervals frequently were in thirds, giving a more Western sound harmonically. In addition, the bass notes were mainly root and fifth intervals.
"Dance of the Yi People," as composed by Huiran Wang – This piece featured a lot of percussive taps on the pipa body. Harmonically, it reminded this writer of the song "Misirlou."
"Give Me A Rose" – Leah used a "Looper" foot pedal on her pedal board to record rhythm tracks; then played the melody along with the looped track. She also used dynamics very effectively in this piece.

Pipa Concerto: "Snowflake," First Movement – Another piece using the looper.
"Spring," composed by Fandi Wang, Wusi Manjiang and Lichun Yu – This piece seems to have a lot of Western harmony in it compared to a typical Chinese composition. The looper was also utilized for this song.
"Dance of the Yi People" (reprise) – re-arranged by Leah Ou
Bernie Lehmann & Jeff Cole
After Leah's delightful presentation, Benie & Jeff spoke about the instruments to be used in the next segment. Bernie has been a luthier since 1972 and brought some of his guitars as samples of "period" instruments as well as more modern styles. One was a replica of a 1780 Renault & Chatelain (Paris) guitar. It was a parlor-sized instrument, smaller that the typical modern classical guitar. Another, described by Jeff, was an 1850 guitar made by James Ashborn in a factory in Connecticut. Among its featured materials were Ebony, rosewood, pearl, and mastodon ivory some two thousand years old. Among the characteristics of parlor guitars are their smaller size and softer volume when played.
Ken Luk and Tom Torrisi
Ken and Tom, Eastman graduate students, comprise The Janus Duo, a classical guitar duo. The duo takes its name from the Roman god Janus who, with two faces, looks into the past and the future. Likewise, the Janus guitar duo presents diverse programs featuring past and contemporary musical works. Along with classical guitar repertoire, Ken performs music of Brazil, Indonesia, Jamaica, and Zimbabwe. Advocating for new music, Tom regularly works with composers to create new works and expand the repertoire of the classical guitar. In addition to his guitar work Tom is a
continuing member of Eastman's Balinese gamelan ensembles Gamelan Sanji Wani and Gamelan Lila Muni.
Here are the pieces Tom and Ken played on 19th Century guitars:
"Divertissement for two guitars," Op.62, No. 1 Andantino cantabile by Fernando Sor. This composition is in ¾ time and shifts from a major key to a minor key and back again to a major key.
"Andante varié" from op 155 by Ferdinando Carulli.
"Air" from Rossini's Barber of Seville Overture by Mauro Giuliani. It was an exciting experience to hear this dramatic work played on two quiet guitars!
On modern guitars, Tom and Ken then played:
"Nagoya Guitars" by Steve Reich, a minimalist work originally composed for marimbas.
"Scherzino Mexicano" by Manuel Ponce
"La Vida Breve," Danza by Manuel de Falla
Tom and Ken's music was gentle and romantic in sharp contrast to the bright, percussive sounds of the pipa heard earlier. The entire evening was an education in the variety of music possible from stringed instruments.
See more photos.
~John Williamson, Richard Taglieri
Share this page:

Facebook

Del.icio.us

StumbleUpon

Digg

Reddit