Presentation on Renaissance Harp at Asbury Methodist Church,September 17, 2018
The September meeting of the Rochester Guitar Club was a departure from the norm in several ways. The meeting was held in the sanctuary of Asbury Methodist Church instead of the usual Red Room venue which was not available. The other novelty was the presence of two harps and no guitars!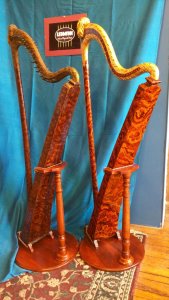 Harpist Paul Knoke and violinist Aaron Bailey were our guests along with RGC member and local luthier Bernie Lehmann. The older harp was built in 1729, probably in Germany, but is not currently playable. Paul discovered the renaissance instrument in a classified ad and acquired it for just $40... plus $70 shipping. Bernie was soon put to work replicating the instrument in a modern incarnation complete with shellac, gold trim and faux tortoise shell. This was a new experience for Bernie, his first harp after many years of constructing guitars, mandolins, etc. The project took several months to complete.
The sounding body of a harp is contained in the walnut frame with the top and the back being the critical elements. The instrument has 34 strings going from low B up four octaves plus 5 notes to G. Each string for a "C" note is colored blue, and each string for an "F" is colored red to provide orientation for the harpist while playing. The string tuning is adjustable and can be raised one half step in pitch by turning a pitch raising mechanism called a hook. It looks like a shepherd's staff and twists against the string to raise the pitch like a fret on a guitar would. This feature is not as rigid as one would expect as it requires some flexibility to function properly. Use of these hook mechanisms allow the harp to produce a full diatonic scale in keys other than C major. The cost of replacing a set of strings is about $500, similar to to the cost of cello strings!
Paul demonstrated the qualities of Bernie's creation playing the delightful Andante from Sonata Opus 3, No. 4 by Phillipe Jacques Meyer. Aaron's violin is also a period instrument and the two instruments harmonized well together as was shown in their charming rendition of the Sonata for Harp and Violin by Johan Henrik Lorentz. This all took place in a small alcove of the sanctuary. The acoustics were ideal for carrying the music, but, unfortunately, not quite so good for voice which made it somewhat difficult to follow the details of the discourse. Paul and Bernie spoke in considerable detail of the many challenges encountered in reconstructing the harp, each from his own perspective. Aaron also added detailed information about his period violin. The RGC members present were clearly very interested in learning about this new instrument and asked lots of questions!
~Richard Taglieri, John Williamson
Share this page:

Facebook

Del.icio.us

StumbleUpon

Digg

Reddit