Stephen Bennett Concert & Workshop, May 17 & 18, 2019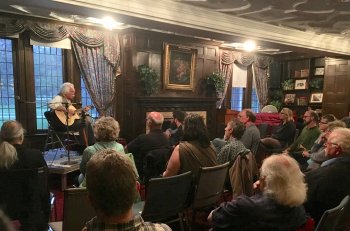 Stephen Bennett's performance in the Red Room was a real treat! Those in attendance enjoyed an upbeat and intimate concert by a first class guitarist/composer. Stephen is as much an entertainer as he is a musician. His style reflects a deep and wide life experience which he is happy to share with his audience.
Stephen's repertoire at times displayed great lyricism as in his own "Most Beautiful Sky" while other tunes exhibited driving energy such as the 1938 song, "Oriental Swing." His originals reflect his personal experiences such as his lovely "I Knew It Was You" inspired by a bird singing by his side while he played a tribute to his father's memory seated on a mountainside where they had shared time together. Even his dog is remembered in "Where Did You Go?" His sense of humor is fully intact as evidenced by "Filtration Blues" in honor of his kidney transplant, not to mention his rousing "Dumpster Blues!" Other pieces included "I'm a Believer, "Sacagawea," and "Vika's Tune," many of which have special personal significance for Stephen.
There were a number of high points during the evening including a complex and expressive version of Claire De Lune on harp-guitar and a trio of pieces with a Native American theme. For the folks who didn't attend, well, all I can say is, "You missed a very good show!" Stephen played two hours of exceptional music, professionally presented on six-string, baritone and harp guitar, as well as dobro and banjo. Stephen closed with a crowd pleaser, "What a Wonderful World"
Stephen's workshop at Bernunzio's the next day was energetic and informative, and we all came away with a new tune in our fingers and the beginnings of another one to work out on our own. Thanks to Stephen for making the trip to RGC for these events!
~Kinloch Nelson, Richard Taglieri
Share this page:

Facebook

Del.icio.us

StumbleUpon

Digg

Reddit