A Presentation on "Arranging and Composing Songs for Guitar" by Doug Young on Zoom for RGC, Monday, June 15, 2020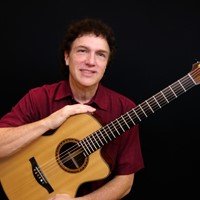 Doug Young
RGC is joining the Zoom world along with everyone else. In May, we held a round robin session on Zoom very successfully. For June, we had our first presentation featuring guitarist, Doug Young, from San Francisco expounding on "Arranging and Composing Songs for Guitar." Doug has an easy going, natural style in his personal presentation as well as his playing. "Free Solo Guitar" (a blog about guitar lessons and more) says of him, "Listening to Doug is hearing the Guitar sing." I think we all agree with this assessment.
Doug spoke about the affect of the current pandemic on the guitar world in the Bay area. Some big names still come through the area, but the live guitar coffee house activity is very light these days in the Bay area.
Our on-line meeting was ably set up and monitored by Tom Napoli, while Kinloch Nelson moderated the presentation. Doug's format was predominantly a Question and Answer session with an occasional song to illustrate his concepts. Doug was located in his own studio with many guitars at his disposal and played several of them for us. Among them was a Mission Grand Concert with cedar top and a Hamblin GC with Brazilian Rosewood.
Our group consisting of about fifteen members had many interesting questions for Doug. The first of these was about his choice of thumb picks. It was clear from his discussion that he has experimented with and is still trying many different ones. No single one seems to be the perfect answer, some are too thin, while others are too thick or too short. Some of the brand names mentioned were Kelly, Dunlop and National. The National for him, seemed to be inconsistent in length even with the same marking. For the other fingers, Doug uses Acrylic nails and tries to avoid what he calls "pick click."
Doug experiments with many alternate tunings, rarely playing in standard tuning.
His first tune for us was called "Autumn Rose" played in a modified DADGAD tuning resulting in DGDGAD. He did play a piece for us in standard tuning, an original he called 'No Place to Hide." Doug, like all of us, has felt the effects of isolation in the current pandemic, but the person he misses most is his nail lady! Without her, his nail edges are rough and the resultant sound is not as fluid as he likes. His favorite style is clearly melodic and flowing, never rushed.
Doug spent much of the evening describing finger exercises that he has used over the years. These include exercises on and off the instrument. He first discussed exercises off the instrument. Many of these came from a book called "Violin Dexterity," published in the UK. He went into great detail describing how to bend each finger in turn at each knuckle, first with one finger, then two, etc. This was followed by opening and closing of the hands and stretching the fingers.
On the instrument, he worked on moving up and down the fretboard in various sequences and also including hammer-ons and pull-offs. He also practices thirds as well as other intervals. All these exercises should be done carefully without rushing. It is not necessary to do them all at once, but about ten minutes worth should be the focus of each session. The goal is accuracy of tone and smoothness rather than speed. The player should try to achieve mind control over the fingers and to develop a round warm tone equally on all fingers.
Other questions from the players concerned pickups and mikes. Doug prefers. mikes to pickups, especially for recording. He uses various types of mike including condenser, ribbon and dynamic. Doug built his studio in what had been his garage in response to his son's loud rock band rehearsals and the resulting neighborly critiques. He used plenty of insulation although thinner than the usual. As a result the sound is highly absorbent, particularly near the walls. The overall effect is very amenable to recording.

Doug is more interested in complexity of harmonics and melodic expression than in technical virtuosity and speed. He likes to arrange familiar tunes that are recognizable to his audience. He does little memorizing, preferring to improvise. This discussion led to another example, "Amazing Grace" which was, accompanied by the score available to us all for printing. The basic elements of his songs are verse and chorus, melody, bass line and chord structure.
He frequently improvises on these elements with chord substitutions including minor and Major sevenths as well as diminished chords and embellishments along the neck. The arrangements also include an introduction and closing.
Another interesting example was the Beatles', "Drive My Car" also accompanied by a printable handout. This song leaves less room for change then many others. Doug finished up with a standard, Johny Mathis' "When Sonny Gets Blue." All in all, we were all engrossed in the music and conversation including Doug and as a result went somewhat overtime with no one complaining! We look forward to another guitar presentation in the Zoom world in the coming days!
~Richard Taglieri
Share this page:

Facebook

Del.icio.us

StumbleUpon

Digg

Reddit