Muriel Anderson's Tribute to Les Paul and more!
Dear friends,
I took a break from recording projects to attend the memorial service of a friend in Waukesha, Wisconsin. Les Paul passed away on August 13, 2009 at age 94. Les was a warm and funny person, great musician and one of the most innovative people I have ever met. I was sad to hear of his passing and extend my condolences and continued support to his family, friends, and the many people whose lives he touched.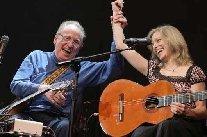 Les Paul at the Iridium
Last December at the Iridium, Les was still the consummate entertainer and musician, with his contagious love for the people in his audience. He was so gracious to play at the All Star Guitar Night a few years ago in Nashville. His sense of humor never quit, and stayed to do every interview and meet with all the fans.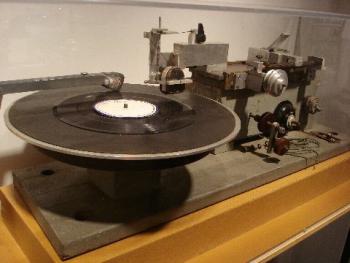 Turntable made with a flywheel!
The funeral reception was held at the first place Les Paul and Mary Ford ever performed in public, the 400 Club in Waukesha. A tribute to him was also held at the Discovery World museum in Milwaukee. There is a beautiful display there of his inventions, including his original sound-on-sound machines and the turntable made with the flywheel from a Cadillac. The timeline of his life outlines the great impact he made on music as we know it. There is also a very good video obituary here and a fun clip from a TV show with Mary Ford here.

Au revoir,
Muriel
See photos of upstate New York taken during Muriel Anderson's trip to Rochester for her concert and workshop in September 2008 on her website. Also, read our review of that event.
Share this page:

Facebook

Del.icio.us

StumbleUpon

Digg

Reddit