Unusual Guitars & Other Plucked String Instruments
Is your guitar too small? Check out this YouTube link to see the world's
largest guitar!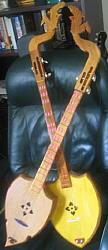 The phin is played
with a plectrum
in North-East
Thailand
♫ How many plucked stringed instruments are there anyway? Also, see the Events Calendar for Friday, January 22, 2010—Wu Man and Friends ... a variety of the world's plucked instruments at Kilbourn Hall.
Share this page:

Facebook

Del.icio.us

StumbleUpon

Digg

Reddit