Acoustic Guitar Magazine
These photos are from the "Acoustic Guitar Community" Blog Page. Acoustic Guitar Magazine reader, Lee Nunes, tipped them off to the startling similarity between a scene from "The General" (a 1926 movie starring Buster Keaton) and the bracing pattern from an Ignacio Fleta guitar!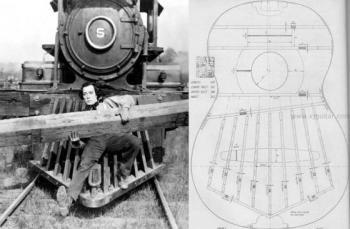 Buster Keaton in "The General" —- The Ignacio Fleta Guitar
From the Acoustic Guitar Community." magazine:
"Connect with guitarists here at the Acoustic Guitar Community!The Acoustic Guitar Community is a social network created by the publishers of Acoustic Guitar. Here, you can join fellow players at all levels and of every style by creating your personal profile, sharing videos or MP3s of your playing, and uploading photos of yourself and your guitars and gear. Then post gigs, events, and concerts in the Community calendar, and start discussions in the forum. We'll keep you up-to-date about happenings at Acoustic Guitar through the Community blog. This is your space, and you're surrounded by like-minded guitarists. So make yourself comfortable, and welcome to the Community!"
While you're there, check out Kinloch Nelson playing "Spanish Harlem.
Share this page:

Facebook

Del.icio.us

StumbleUpon

Digg

Reddit