Goodbye to Earl Scruggs by Al Hopkins
In case you didn't know, banjo was my first folk instrument; purchased a "no-name" from a Harvard Crimson classified ad in 1961, first year at college. My influences were Dave Guard of the Kingston Trio, and of course Pete Seeger, but it wasn't long before I found out about Earl Scruggs.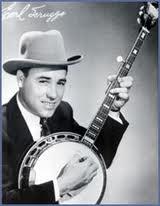 Earl Scruggs
Earl was born in North Carolina (1924), a state with a long tradition of finger-style banjo playing (as opposed to the "clawhammer" percussive strumming style). From Charlie Poole a century ago, through later pickers like Wade Mainer and "Snuffy" Jenkins, the style continued and developed, reaching a peak with Earl's intricate finger-picking patterns (which he called "rolls"), and his lightning speed. When Earl joined Bill Monroe's Blue Grass Boys in the mid-1940's, and was featured on the Grand Ole Opry as "the boy that makes the banjo talk," he and his banjo became the focus of the then-new "bluegrass" style. After a short stint with Monroe, Earl and lead singer/guitarist Lester Flatt left to form the Foggy Mountain Boys, for two decades our premier bluegrass band. With a major-label record contract, corporate sponsorship through Martha White Flour, and a syndicated TV show, Flatt & Scruggs became as famous as bluegrass pickers ever get –– making soundtracks (Bonnie & Clyde, Beverly Hillbillies), playing Carnegie Hall, recording dozens of albums, touring constantly. The band broke up in 1969; Earl wanted to play music with his sons Randy, Gary and Steve, and had developed atypical "progressive" views, including playing Foggy Mountain Breakdown at the '69 Washington DC Moratorium march, and bringing Bob Dylan songs into his repertoire. He and his sons formed the Earl Scruggs Revue, a sometimes awkward blend of bluegrass and folk-rock, and for another decade played colleges, concerts and festivals, making records with the Revue and with others, and consolidating his status as an American musical icon. The two times I saw Earl live were with the Revue, and I knew I was watching a legendary musician in action.
Earl's long-time wife Louise had a shrewd head for business, accumulating copyrights and publishing credits for many of the songs and tunes he wrote and performed, so Earl avoided the financial woes that struck other bluegrass pioneers like Monroe and Flatt. His last few years included appearances at festivals, on "tribute" and "reunion" albums, and in collaboration with other pickers such as Ricky Skaggs and Doc Watson. Age took some of his speed, but his technique, and the sound of his old Gibson Granada "flat-head" banjo, were as distinctive as ever. Last Wednesday death took him, at his home in Nashville. He's one of the last century's most influential instrumentalists, performing in parts of nine decades since the 1930's, and leaving behind an unshakeable legacy of innovation and virtuosity. When a musician imprints his name on a style that thousands emulate, he's achieved permanent stardom, and "Scruggs-style banjo" is a permanent part of our music. His name surely will live on.
~Al Hopkins
Share this page:

Facebook

Del.icio.us

StumbleUpon

Digg

Reddit